Save with your home has never been easier. Since the Enlightenment, the insulation of walls and roofs, HVAC, we leave here a few suggestions, simple and secure.
Lighting
-The replacement of lamps, opt for lamps, reducing up to 80% of electrical energy consumption in lighting. For example, the exchange of one halogen lamp 50W, working 4:00/day, by an LED lamp 7W, allow annual savings of € 9.50 (assuming a cost of0,15€/kWh).
-Avoid leaving lights on in spaces without using or without occupation.
-Check the cleanliness of the lighting system. A clean lamp is brighter and more efficient.
Insulation of walls and roofs
Did you know that 3 cm of thermal insulation can download the heating needs of the building at about 30%.
-Paint the walls and ceilings of light colours will encourage the reflection of light (natural and artificial), reducing the need for artificial lighting.
The choice of an air conditioning and heating.
-To acquire air conditioning systems inverter type efficient choice that will shape the operation your HVAC needs, thereby reducing energy. The use of air-conditioning heat pump type (conducts heat and cold) may allow a saving of around 120 €/ano (considering two equipment with a power of 2000 W, working 5:00/day during the heating months (4 months).
-Perform maintenance actions and cleaning the Interior and exterior air-conditioning units, allowing guarantee the energy efficiency of the equipment.
-Adjust the interior temperature. Comfortable temperatures:
In winter: between 18 and 21° C
In summer: between 23 to 25° c.
Each additional degree increases the power consumption by about 7%.
-Replace production equipment of Sanitary hot water for other equipment more efficient:
a) high-income Heaters/thermostatic;
b) condensation boilers;
c) heat pumps (aerotérmicas and geothermal);
This measure aims to improve the efficiency of the systems, which have the function to supply the energy needs for heating and for cooling, ensuring conditions for great comfort.
-Apply systems that use renewable energy sources, such as solar thermal, solar PV,wind, geothermal, Aerothermal, mini-hydro power and geothermal energy (heat pumps), biomass, among others. Equipment using renewable energy sources contribute to the energy performance of a building, allowing you to reduce certain energy needs for heating and for cooling or A.Q.S. This production influence is noticeable in energy class a building, allowing obtain buildings with energy classes A +.
… and the choice and use of appliances (source: ERSE)
-Choose to buy equipment with energy label class A + or A ++
-Computers and monitors: choose which feature the Energy Star label
-Always disconnect the plug and never on standby. The extensions with multiple access facilitates this process.
-Refrigerators and combined: choose one that is appropriate for your needs, considering the size of your household. Install them in local produce and ventilated and away from sources of heat such as a stove, furnace and direct exposure to sunlight. Keep the temperature of the cooling compartment and 5 of paragraph -18 in the freezer compartment. Regularly clean and ensure that the doors close and insulate properly.
-Dish washing machines: Use evening periods. Greatest advantages if you have a cycle of energy consumption count bi-or tri-daily diary. The economic programs and of low temperature also reduces the energy consumption. Keep the filters clean.
-Washing machines and/or dryer: opt for thermal equipment. Always work with the maximum load and avoid pre-washing. Use low temperature programs. When in doubt, opt for centrifuge instead of drying your clothes – Saves the consumption and portfolio thanks you.
Furnace: did you know that every time you open the oven door during operation, the energy loss can reach the 20%? Avoid doing it. Use preferably ceramic and glass containers. When is almost done, turn off the stove: the existing heat will complete the process.
Good savings!
Gallery
Home Energy Saving Tips
Source: www.makeyourhomeenergyefficient.com
Energy Saving Tips for Your Home
Source: www.acrimmer.com
Poster Energy Saving Tips
Source: homeround.com
Energy Saving Tips at Home
Source: visual.ly
Energy saving tips for home
Source: www.interiorhousedesign.net
Pretty Practical Mom: Home Energy Saving Tips of a …
Source: prettypracticalmom.blogspot.com
Energy Saving Tips
Source: cwep.com
Bring Your Green to Work with ENERGY STAR®
Source: slideplayer.com
How Many Solar Panels Do I Need for My Home: Calculating …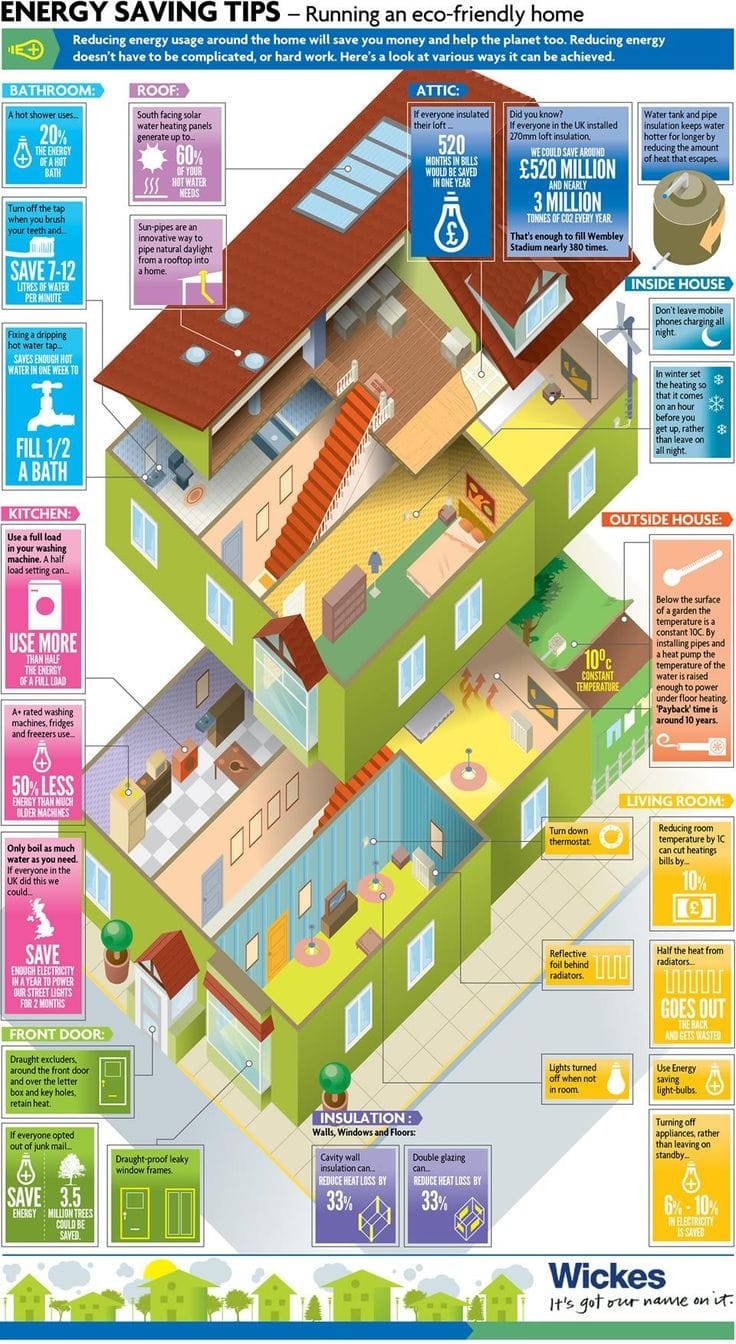 Source: survival-mastery.com
5 Energy Saving Tips – TCL Philippines
Source: www.tclphilippines.com
Energy Saving Tips – 5 Ways to Save Energy at Home …
Source: www.energyces.com
Energy Saving Tips at Home
Source: www.michiganhousesonline.com
Six Effective Tips To Safe Energy Or Electricity At Your …
Source: elcolem.wordpress.com
Smart consumption for the environment
Source: www.wwf.sg
Home Energy Savings Pay Big
Source: jentanahomeinspections.house
Easy Energy Saving Tips
Source: easyenergysavingtips.com
Green Energy Saving Tips Infographic for Your NJ Home
Source: www.ajperri.com
Top 10 Energy Efficiency tips for your home. For more …
Source: www.pinterest.com
Ways to save energy around the home
Source: www.agilityeco.co.uk
TVA
Source: www.tva.com